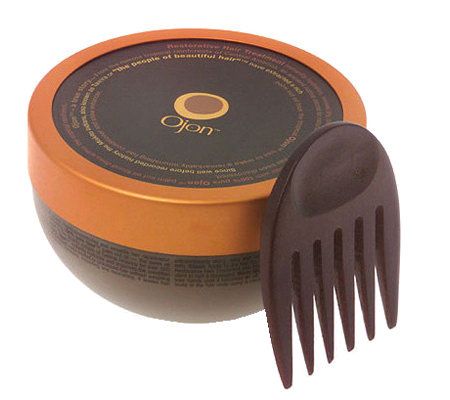 I love the back story of Ojon. Ojon uses a rich palm nut oil extracted from the tropical Ojon tree in their products. For hundreds of years this tree was only known to the Miskito Indians, named Tawira, also known as "people of beautiful hair". Today partnering with the Miskito to harvest and extract the oil, Ojon has made 100% pure, natural ojon oil available to us all.
I've tried many Ojon products. I've always shied away from one of their most popular products though. I thought the Restorative Hair Treatment would be too heavy for my somewhat fine, straight hair. Enter my friend Sharon who has the exact same hair texture as I do. She ran into work on Monday saying that she had stumbled onto a "miracle mask" for the hair. She'd never heard of the brand but while visiting her sister for the weekend saw it in the shower, read the instructions and used it. And Loved It!
So of course I had to get my hands on it and use it right away. On Ojon's web site they descibe the product as "a unique, highly-concentrated hair rejuvenator that instantly hydrates and dramatically improves the condition of damaged, color-treated or processed hair, without weighing it down." I ditto that. It made my hair feel awesome and didn't weigh it down at all. The smell of this product is not the greatest but who cares...my hair looks and feels fabulous and isn't good hair what it's all about...